The crunch, the welcome crispness, tart and sweet, juice running down your hand…We love our apple tree!
There's nothing like reaping the harvest of something you have planted and tended to. Not only beautiful in stature, but it also gives back. And I am grateful.
It takes a bit of magic, but growing your own food is incredibly gratifying! Here in Phoenix we can grow produce all year round. We've had success with greens, tomatoes, root vegetables, and of course citrus. (One of the 5 "c's" that Arizona is known for. Look it up!)
Watching our front yard tree blossom and fruit hundreds and hundreds of apples has been nothing short of miraculous this year! A mild May, where the temps barely got into the 90's, allowed our pretty green apples to grow to almost softball size! 
We've made apple crisp, apple fritters (A new favorite! Pictured below.), apple cakes, smoothies, popsicles, and various flavors of applesauce that are nicely tucked away in the freezer for all year round goodness! (Cherry and peach applesauce are delicious!)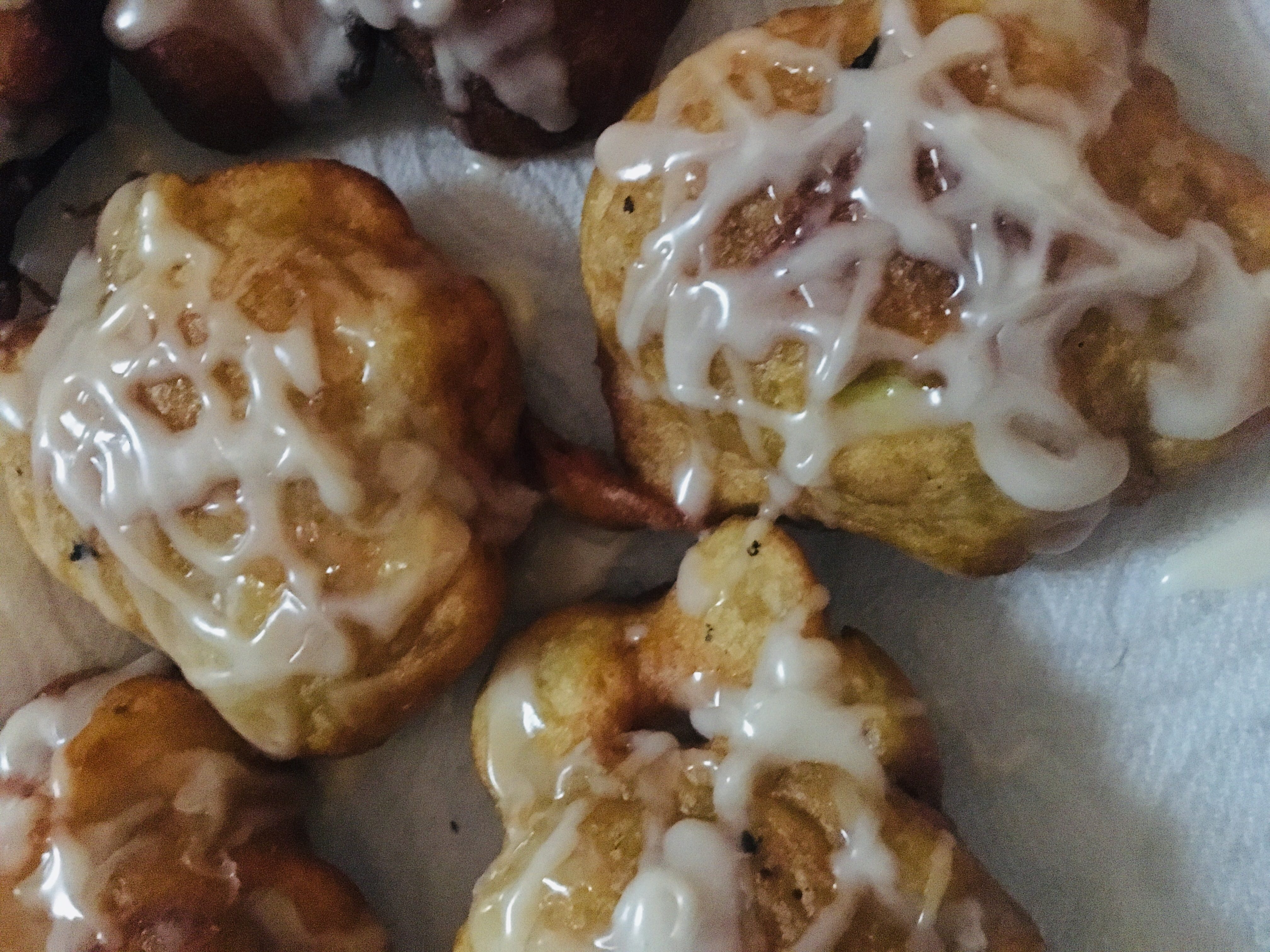 It's a kick grabbing one right off the tree as we hustle to the car. It's fun showing up at all sorts of play dates and get togethers with a container full of apples to share. A few folks on the street corner have even been blessed with fresh produce as well.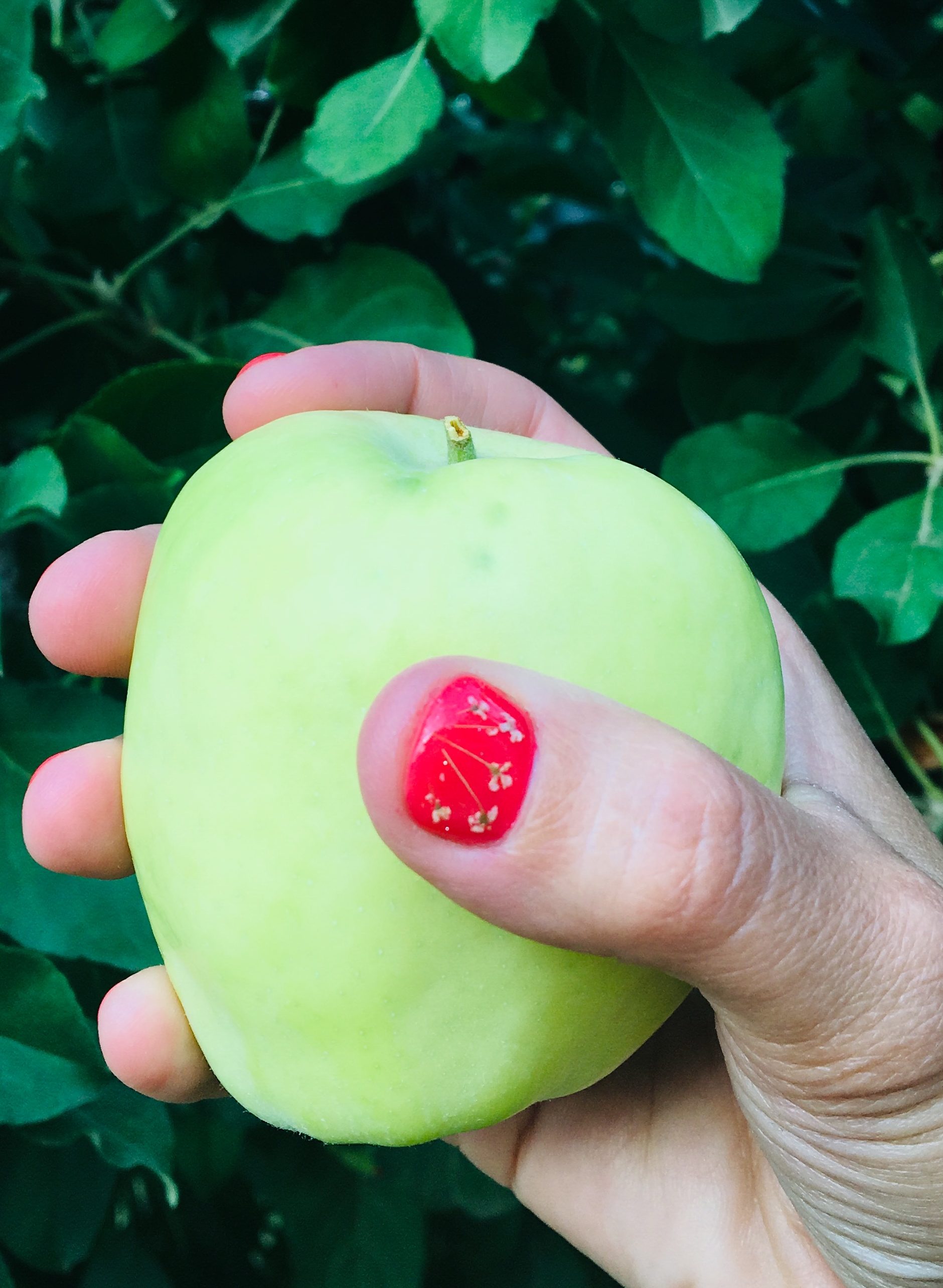 Bags and bags have been given away to neighbors, family, and friends. Here we are, almost to 4th of July, and I'm still picking! Just yesterday I noticed a few pink blossoms…does that mean we're going to get a second fruiting this year?! Holy moly!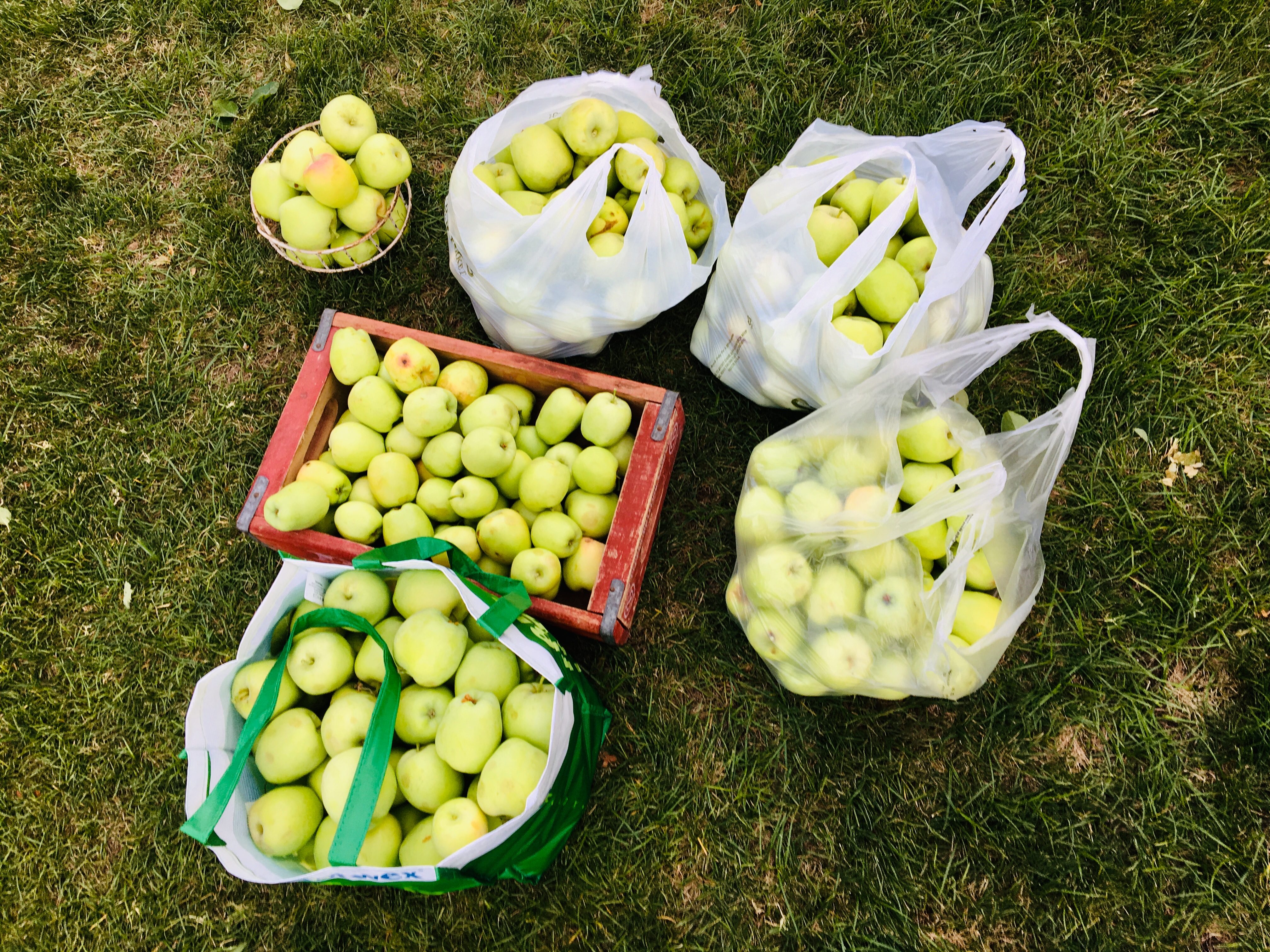 When we first planted it 9 years ago I had hoped for fruit, but surely wasn't expecting this sort of bumper crop! Planting it was sort of ceremonious. This very special Anna Apple Tree is a symbol of life, and growth. Setting down roots. Creating a home. Someday, I envision our kids getting married and carving their initials in that tree. Over time, it's been our go to back drop for photos. It's a source of shade for my yard guys. A gathering spot for the neighborhood. We've spread out blankets and read stories under it's branches. Decorated it with popcorn strings at Christmas.  Now it's strong enough for a climber or two to scale it's thick trunk.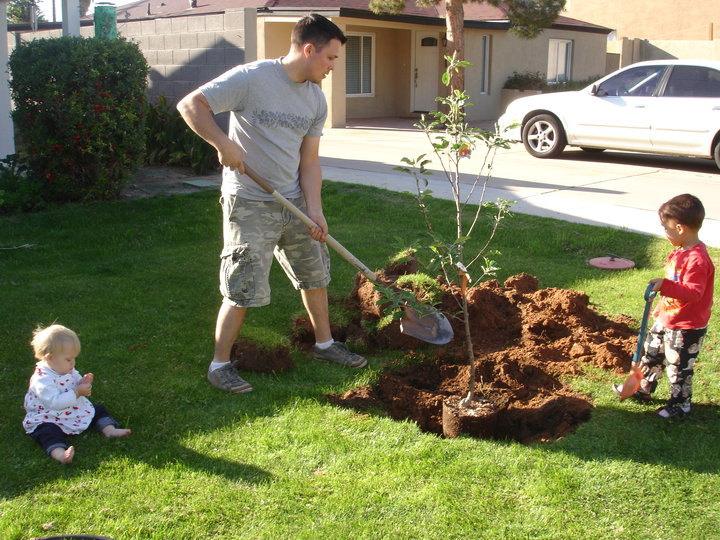 This makes me pause…realizing that these branches may stretch farther than my front lawn. Is this tree more than just a fruit tree, even more than just a symbol? What is God trying to teach me in this time of harvest? I'm always looking for the hidden whispers that He is trying to speak into my life. Surely there's the obvious that patience, tending, and hard work pays off. Following truth and goodness will reap beauty and nourishment. But beyond the gathering of fruit, there's the reality that some branches need to be trimmed. A good soak from time to time is a necessity. Deeply rooted in rich healthy soil is key. As much as I predict continued blossoming, what if the tree is attacked by insects or a disease…how can I protect it? How can I be prepared? 
Ah, there it is, as I see the beauty and collect the goodness how can I also peacefully be on guard to protect my own heart and family?  Boom, truth!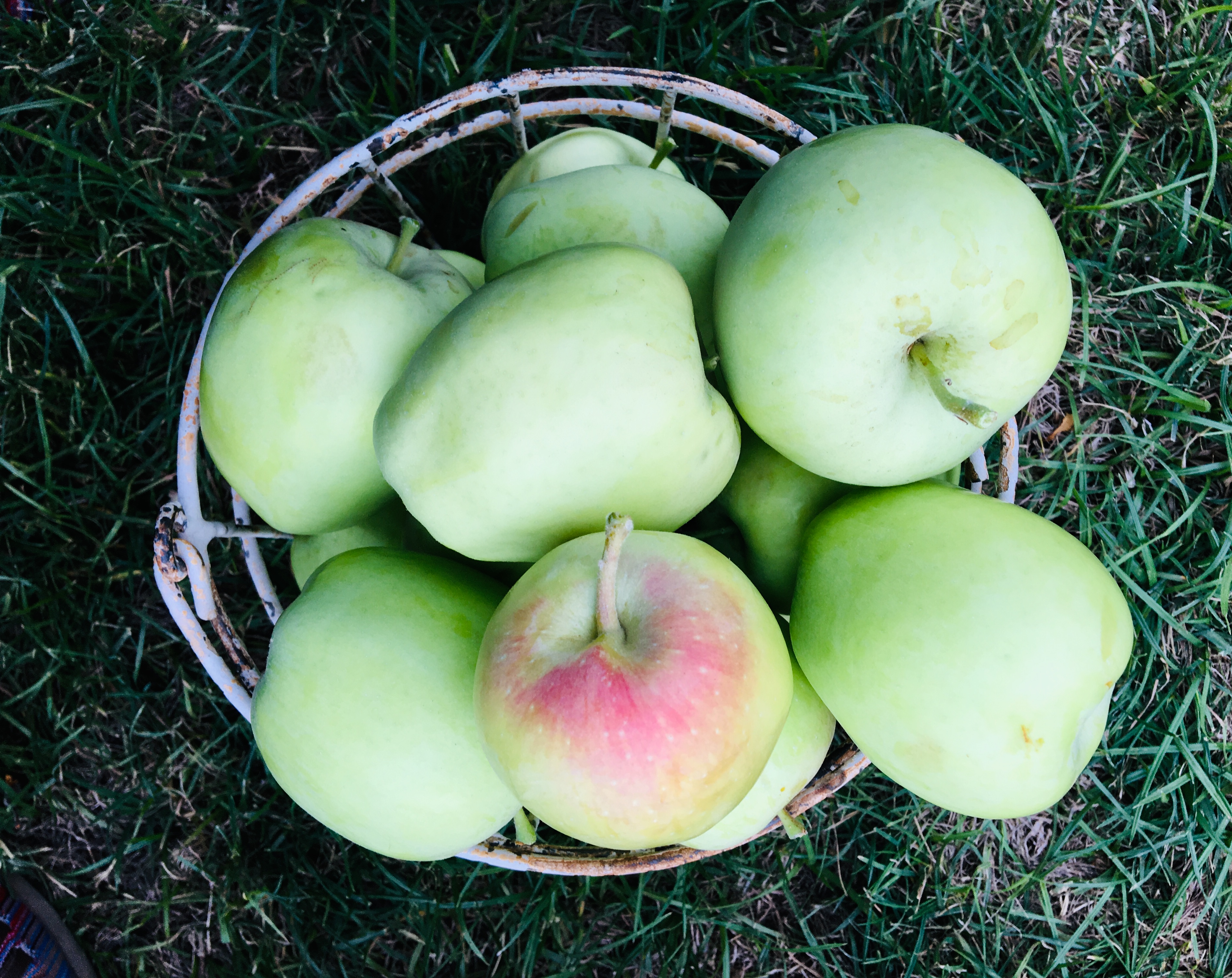 You see, the season that each of us is in may have different circumstances, we're all on this life journey uniquely together. Remember the newness of grace that starts with just a little seed of faith in something much bigger and more fruitful than you could ever imagine. 
-Emy  "The Barn Wood Wife"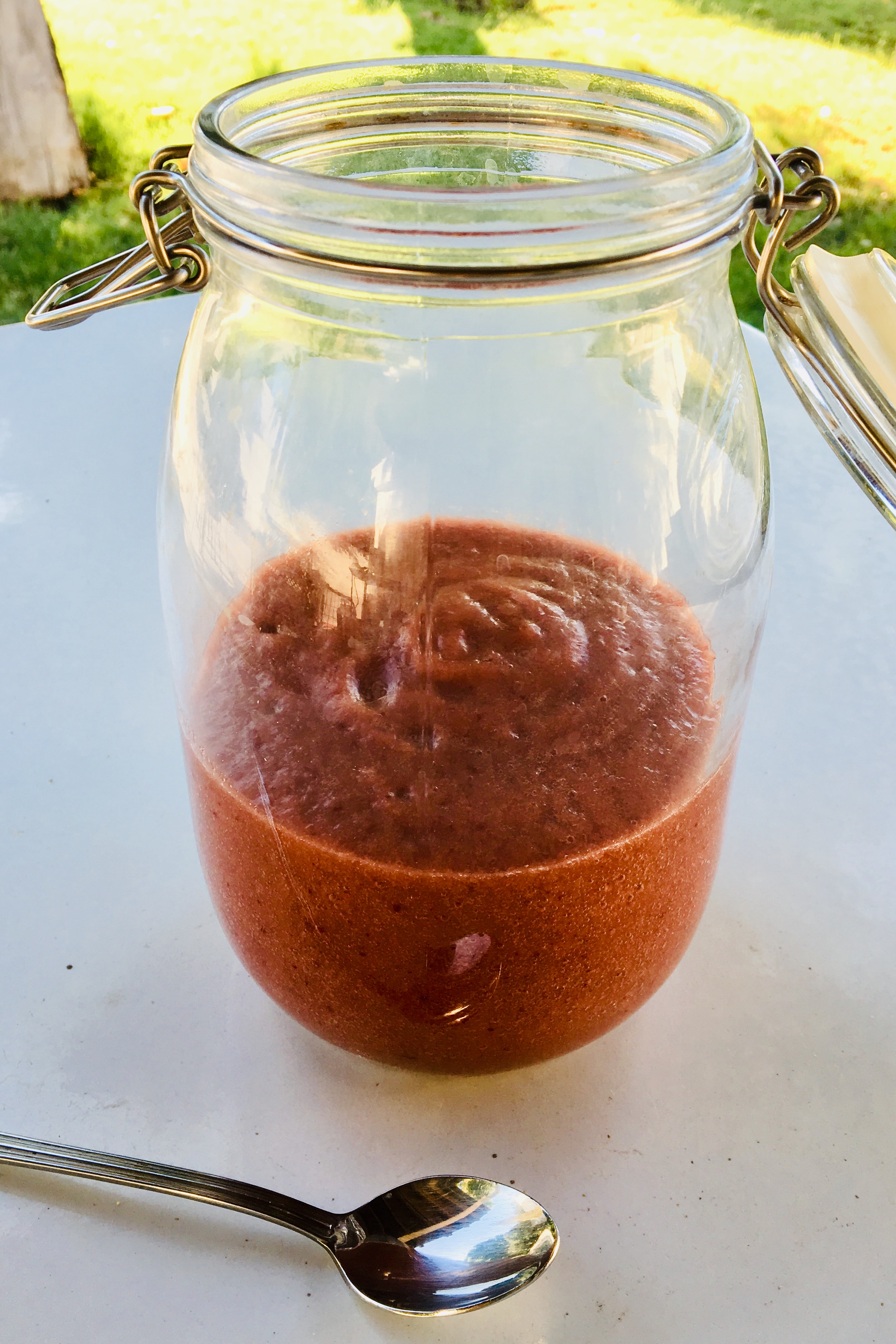 Emy's Raw Applesauce "Recipe"
Core and Slice Apples
Place in a blender (Vitamix or Blendtech work well)
Splash of water
A couple dashes of Trader Joes Pumpkin Pie Spice
Blend and ENJOY fresh or freeze
*Add fresh pitted or frozen cherries 
*Add fresh or frozen peaches